Vil The Future Of Stake involvere Metaverse ?
Stake reagerer på tweet med mock-up af et virtual reality-kasino
Kunne Stake være på vej til metaverset, så spillere kan gnide skuldre med Eddie , Drake og besætningen?
Hvad kan man forvente af et Stake VR casino og sportsbook?
Stake i Metaverse?

Hvad er Metaverse?

Hvordan ville Stakes Metaverse se ud?

Stake Virtual Reality Casino ofte stillede spørgsmål
Stake har netop offentliggjort billeder af sit kasino i en virtuel verden.
Stake i Metaverse?
Det var som svar på nogens idé på Twitter, billederne viser kasinoet fra Grand Theft Auto V med
Stake Casino
-branding.
"Forestil dig en version af @Stake, der er ligesom GTA V kasinoet med evnen til at gå rundt og sidde ved forskellige borde og maskiner og se festlokaler til live-begivenheder, der ville være syge... også en e-bar, der faktisk sender drikkevarer til din huset ville være fedt men. regler"
"Din drøm er nu en realitet" Stake svarede sammen med billederne af karakterer, der står i kø til et virtuelt lykkehjul, der sidder ved et blackjack-bord og generelt slapper af og socialiserer med andre spillere.
Selvom billederne viser ideen i bevægelse, er den langt fra den virkelighed, der blev udtrykt i det originale tweet. Dette fik os dog til at tænke. Hvordan vil fremtiden for Stake egentlig se ud? Vil vi gå tilbage til at gå rundt på kasinoer, men virtuelt?
Hvad er Metaverse?
Metaverset er en virtuel verden, der konstant bygges på, tilgængelig via computere og virtual reality. Ideen er at kunne krydse en virtuel verden, arbejde, shoppe og lege ved at bruge kryptovalutaer til at klare sig.
Efterhånden som den udvides, vil vi se en ny platform, hvor mange industrier vil være i stand til at operere, uanset om det er ved siden af traditionelle midler - som vi så med fysiske kasinoer, der flytter online - eller som en eneste måde at levere bestemte tjenester på.
Hvordan ville Stakes Metaverse se ud?
I øjeblikket kan vi kun spekulere i, hvordan Stakes Metaverse ville være. Men i betragtning af hvor fremsynet dette firma er, er vi sikre på, at det vil være grandiost og som intet, der er kommet før. Her er et par ideer, vi har fremtryllet:
Se Stake Streamers - Der er mange populære Stake streamere, inklusive Trainwrecks, Classy Beef og Roshtein. Forestil dig at kunne deltage i deres fester i Metaverset, mens de spiller for tusindvis af dollars.
Immersive Slots - Indsats på Strip (i Metaverse). Gå gennem kasinoet og tag plads ved din yndlingsautomat. Fordyb dig både i stemningen på casinogulvet og spillet. Hvilken oplevelse ville dette være.
Månedlig bonus fra buret - Den månedlige bonus er altid en stor begivenhed på spil. Hvad med at kunne vandre over til kasinoets bur og samle det?
Livebegivenheder - Få en plads på forreste række ved de største UFC-begivenheder, NBA-kampe og meget mere.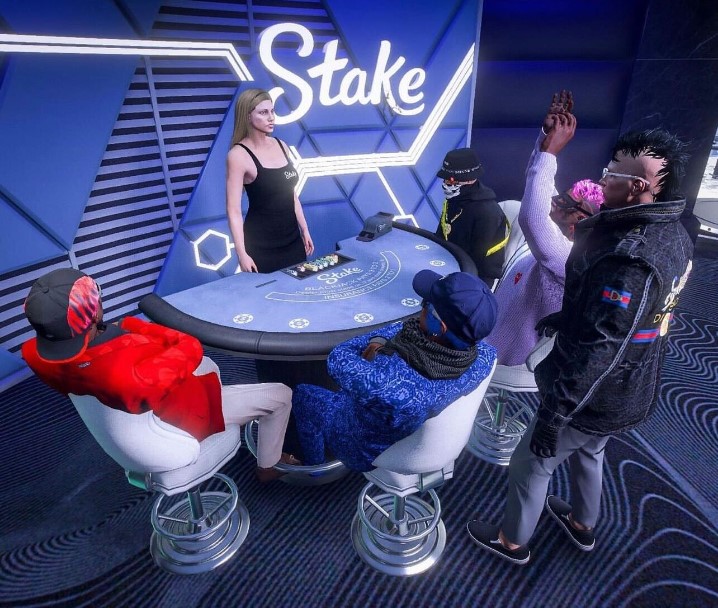 Stake Virtual Reality Casino ofte stillede spørgsmål
Har Stake et virtual reality-kasino?
Ikke endnu, men det kan blive en realitet i fremtiden. Tjek HugeStakes for alle de seneste nyheder relateret til Stake.com og Stake.US.
Hvor kan Stake Metaverse bygges?
Det er ukendt endnu, men de foretrukne steder er Decentraland eller Sandbox. Begge disse projekter kæmper om topplaceringen i Metaverse-universet.
Vil Stake VR have poker?
Det er meget muligt, når Stake lanceres i Metaverse; det vil tilbyde heads-up Texas Hold'em poker.