Will The Future Of Stake Involve The Metaverse?
Stake responds to tweet with mock-up of a virtual reality casino
Could Stake be heading to the metaverse so players can rub shoulders with Eddie, Drake, and the crew?
What to expect from a Stake VR casino and sportsbook?
Stake In The Metaverse?

What Is The Metaverse?

What Would Stake's Metaverse Look Like?

Stake Virtual Reality Casino FAQs
Stake has just posted images of its casino in a virtual world.
Stake In The Metaverse?
It was in response to somebody's idea on Twitter, the images show the casino from Grand Theft Auto V emblazoned with
Stake
.com
branding.
"Imagine a version of @Stake that's just like the GTA V casino with the ability to walk around and sit at different tables and machines and watch party rooms for live events that would be sick… also an e-bar that actually sends beverages to your house would be cool but. Regulations"
"Your dream is now a reality" Stake responded, alongside the images of characters queuing for a virtual lucky wheel, perched at a blackjack table and generally relaxing and socializing with other players.
While the images do show the idea in motion, it's far from the reality expressed in the original Tweet. This got us thinking, though. What will the future of Stake actually look like? Will we go back to walking around casinos, but virtually?
To get a flavor for this, check out our
Stake.com Casino review
to learn more about the current set-up, and the games it has.
What Is The Metaverse?
The Metaverse is a virtual world that is being built upon constantly, accessible through computers and virtual reality. The idea is to be able to traverse a virtual world, work, shop and play, using cryptocurrencies to get by.
As it expands, we'll see a new platform in which many industries will be able to operate, whether that's alongside traditional means - as we saw with brick-and-mortar casinos moving online - or as a sole way to provide particular services.
What Would Stake's Metaverse Look Like?
At the moment, we can only speculate on what Stake's Metaverse would be like. However, given how forward-thinking this company is, we're certain it'll be grandiose and like nothing that's come before. Here are a few ideas we've conjured up:
Watch Stake Streamers - There are many popular Stake streamers, including Trainwrecks, Classy Beef, and Roshtein. Imagine being able to join their parties in the Metaverse while they play for thousands of dollars.
Immersive Slots - Stake on the Strip (in the Metaverse). Walk through the casino and take a seat at your favorite slot. Immerse yourself both in the ambience of the casino floor and the game. What an experience this would be.
Monthly Bonus from the Cage - The monthly bonus is always a big event at Stake. How about being able to wander over to the casino's cage and collect it?
Live events - Get a front-row seat at the biggest UFC events, NBA matches, and more.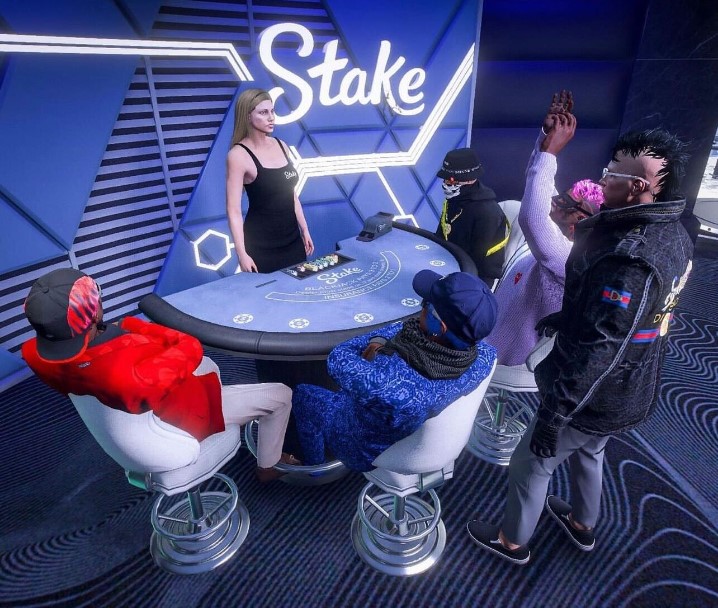 Stake Virtual Reality Casino FAQs
Does Stake have a virtual reality casino?
Not yet, but this may become a reality in the future. Check out HugeStakes for all the latest news related to Stake.com and Stake.US.
Where might the Stake Metaverse be built?
It's unknown as yet, but the favorite locations are Decentraland or Sandbox. Both of these projects are vying for the top spot in the Metaverse universe.
Will Stake VR have poker?
It's highly possible when Stake launches in the Metaverse; it will offer heads-up Texas Hold'em poker.