Win A Share of $3,000 Playing Stake Originals
The Royals Club of Originals game of the week is Wheel
Hit the required multiplier to win a share of the prize pool
Minimum bet as low as $0.03 to be eligible for this promotion
What is Wheel and why is it so popular?
Every week, there is a new Stake Originals promotion. For week 25, the chosen game is Wheel, and you can place your bets for as little as $0.03.
$3,000 wheel Promotion - Stake Originals Game of the Week
Stake.com
continuously pampers its players with promotions. Some of these are promoted directly on the website, and others through social media. However, existing players always head over to the Stake Community forum, which is where you'll find the weekly
$3,000 Royal Club of Originals
promotion.
Here's a rundown of how it works, the prize payouts, and how to submit your Stake.com bet ID.
Promotion Dates
27th March 2023 - 3rd April 2023
Requirements
Originals game of the week: Wheel
Minimum bet amount is $0.03 or currency equivalent.

Win three bets on Wheel with a 49.50x multiplier (Risk: High and Segments: 50)
Terms & Conditions
The promotion ends on the 3rd of April, 2023, at 14:00 GMT.
Players' Stake accounts need to be verified.
Prizes will be given to the winners within 72 hours of the completion of the program.
Only Stake customers who have made 10+ forum posts can qualify.
Prize Pool
The total amount of the Stake Originals weekly promotion depends on the number of unique players who qualified.
Minimum prize pool: $150
30+ participants: $350
40+ participants: $450
100+ participants: $750
200+ participants: $1,000
500+ participants: $1,500
All players who qualify within the promotion period win a share of the prize pool. There is an extra reward depending on the player's level of verification.
Level one - 10% extra on basic reward
Level two - 100% extra on basic reward
How to submit your entry
Go to the Stake forum (stakecommunity.com) and find the $3,000 Stake Originals promo thread.
Reply in the comments for this thread with your bet ID.
Highlight and click on the link bet button
What is Wheel?
Wheel is a provably fair game of chance that was developed by Stake. Its appeal is in its simplicity combined with an RTP of 99%.
In a nutshell, players bet on a segment of the Wheel and receive a payout if they guess correctly or lose the bet if their prediction is incorrect.
You can play on low, medium, or high risk. Also, you can choose between 10, 20, 30, 40, or 50 segments on the Wheel. If you set the Wheel to high-risk with 50 segments, the payout is 49.50x when you win.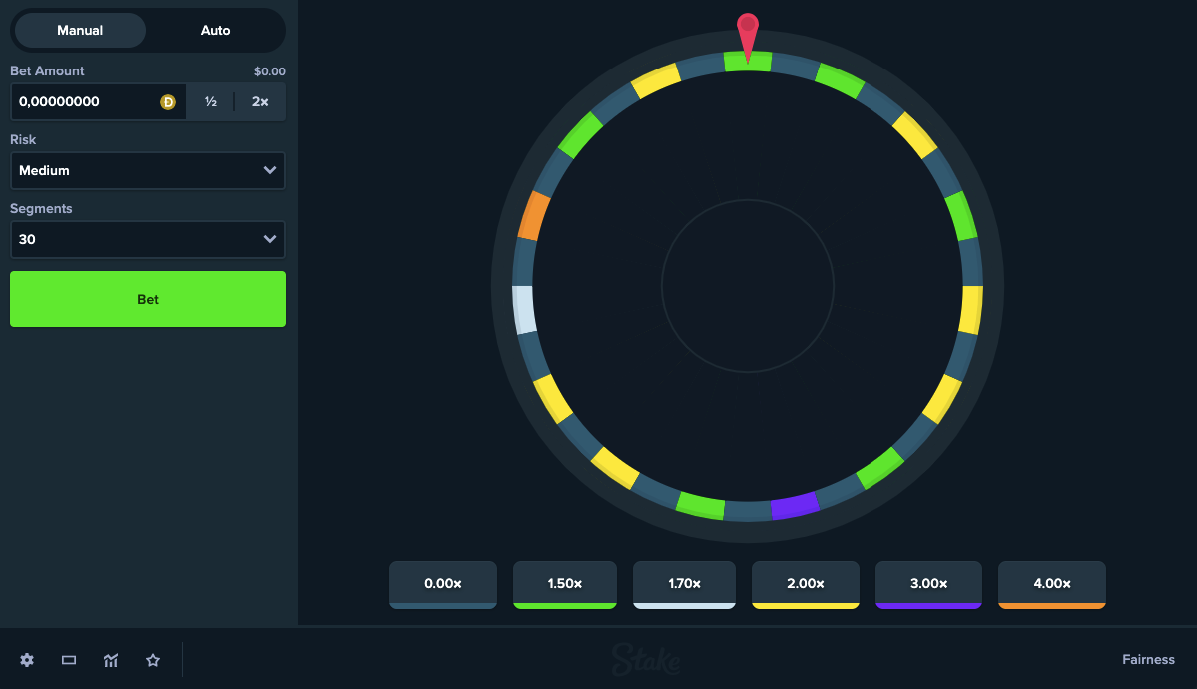 Play Wheel With Our Stake.com Promo Code - HUGE
Wheel is both relaxing and exciting at the same time. It's one of those games you simply have to try, and once you do, it's hard to resist thereafter.
The best way to start your Wheel adventure, and to join the Stake Originals weekly promotion, is by registering an account with our exclusive
Stake Casino promo code HUGE
. Using this, you can claim a match deposit bonus, which can be used to try your luck on thousands of games, including this simple but captivating title.