$9,000 Lucky Number Challenge at Stake.com Casino
Get more from Stake Originals Roulette with the $9,000 Lucky Number Challenge.
Learn the rules of this challenge so you can win a share of the prize pool.
Stake Originals Roulette is provably fair, allowing players to verify the results.
Use the Stake.com promo code HUGE to claim a matched deposit bonus.
Lucky Number Roulette Challenge With $9K Prize Pool

Terms and Conditions

Stake Originals Roulette - At a Glance

Play Stake Roulette & 1000s of Other Games with our Promo Code - HUGE
Play Stake Originals Roulette and win a share of more than $9,000 simply for betting on red.
Lucky Number Roulette Challenge With $9K Prize Pool
The $9,000 Stake Original Roulette challenge is a straightforward promotion that has the potential to deliver some generous payouts to the lucky winners.

All you have to do is win as many consecutive bets on RED as you can. If you hit six or more, with a minimum bet of $1.00 per round, you'll qualify for a payout. Here's a breakdown of the prize pool:
1st place: $800.00
2nd place: $500.00
3rd place: $300.00
4th place: $200.00
5th place: $150.00
6th - 10th places: $100.00
11th - 20th places: $55.00
21st - onward: a share of $1,500
Terms and Conditions
There are a few terms and conditions attached to the Lucky Number challenge at Stake.com. We've summarized the main points for you below:
Players must manually submit their bet ID either in the thread on the Stake community forum or via the Lucky Number promotion page on the website.
The prize places are determined by the total of the unique multipliers that are given for this promotion.
The player who gets the most unique multipliers lands 1st place - and wins the $800 prize.
You may edit your original bet submission if you improve your multiplier.
Players must submit their bet ID within 48 hours of hitting the win.
Players whose accounts are level two verified receive a double payout on the basic prize amount
Stake Originals Roulette - At a Glance
Stake Roulette is a popular title from the company's in-house-developed provably fair Originals collection.
Compared with the graphics and artwork from other providers, this game looks visually very basic. Also, you cannot place bets on splits, rows, or corners, which is another setback.
However, the simplified visuals mean that the game runs smoothly even for players on slower internet connections. And you can still bet on single numbers, red/black, odd/even, high/low, dozens, and columns, which is more than enough.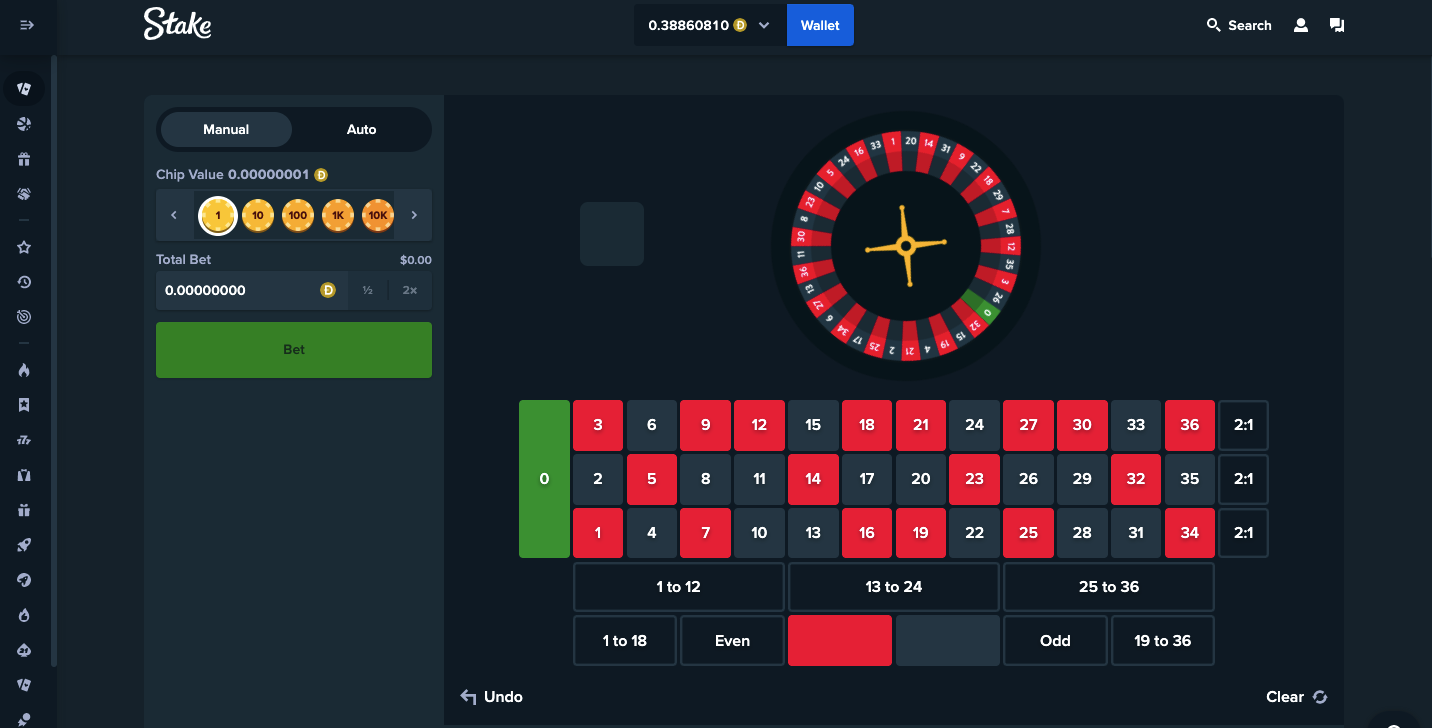 Yet, the most appealing factor of this roulette game and all other Stake Originals is that they are provably fair. The concept of provable fair games is that players can verify the results of every spin. Essentially, the outcome is determined before a bet is placed.
This result is stored using cryptography. After the spin, players can check that the predetermined result and the outcome align, meaning the game is true and fair.
Play Stake Roulette & 1000s of Other Games with our Promo Code - HUGE
To take part in the Lucky Number promotion, you need to have an account. The good news is that you can use our
Stake.com promo code HUGE
to claim a massive 200% up to $1,000 welcome bonus on your first deposit.
As well as roulette, Stake has plenty more probably fair games, such as Plinko, Blackjack, Mines, Limbo, and Video Poker. You can also play more than 2,000 slots and table games from other software providers.