Conquer The Casino to Share in $50k every week at Stake.com
Conquer the Casino on 10+ popular games and win a share of $50k at Stake.com
New games are included every week
Hold the first position on the Lucky Wins or Big Wins leaderboards to score big prizes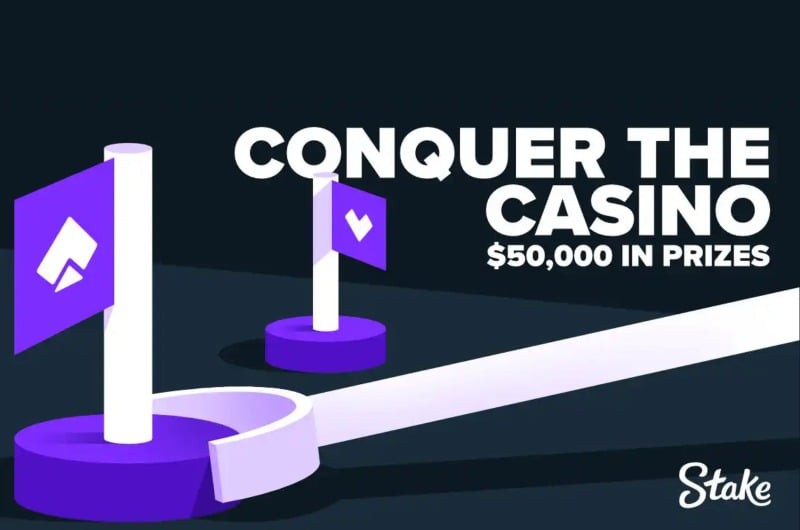 When Can I Play?

How to play Conquer the Casino at Stake Casino

Conquer the Casino

Prizes Breakdown

Terms and conditions
Think you can conquer the casino to win a share of $50K? Find out more about this epic promotion from Stake Casino below.
Players at
Stake.com
now have the chance to claim a share of a $50,000 prize pool every week with the Conquer the Casino promotion. To enter, 'conquer the casino' by playing 10+ popular slots. The players who top the big wins and lucky wins leaderboards will win cash prizes.
When Can I Play?
The promotion ends on 13th January 2023
How to play Conquer the Casino at Stake Casino
If you want to get involved in the action at Stake, you'll need to create an account. Use the
HUGE promo code
when you register, and you'll gain access to the many perks and highlights available at this highly regarded crypto casino.
Once you've signed up, follow the steps to play along during Conquer the Casino promo.
Visit the casino at Stake.com and play Conquer the Casino promotion


Bet at least 10c or equivalent on the designated games


Big wins are the largest payout on the game this week


Lucky wins are the highest multiplier on the game this week


Hold the first position on either leaderboard to win
Conquer the Casino
Hold the first position on the Lucky Wins or Big Wins leaderboards after one week on any qualifying game (list below) to scoop big cash prizes!
RIP City (EDDIE'S CHOICE)
Dragon Hero
5 Rabbits Megaways
Book of Sam
Pinatas & Ponies
Cash-a-Cabana
Tales of Silver Megaways
Book of Rampage 2
In The Bullseye
Arena of Gods: Rise of Medusa
You can monitor the winning bets on the leaderboard of Conquer the Casino section of the website, where you can also see the eligible games and providers.

Keep an eye on the leaderboard, as it can take a few minutes to update.
Prizes Breakdown
$1,000.00 – Lucky Win Prize per game
$3,200.00 – Big Win Prize per game
$3,000.00 – Lucky Win from Eddie's Choice game
$9,200.00 – Big Win from Eddie's Choice game
Terms and conditions
If the top multiplier on the Lucky Win leaderboard is shared between multiple players, the Lucky Win prize will be awarded to the player whose bet amount was higher. If the bet amounts are still the same, then and only then will the prize be split.
Furthermore, any streamers with ongoing affiliate benefits will not be eligible to receive Big Win prizes
When browsing the site with the fiat currency view on. It reads all the crypto values on the screen, and converts it to the live fiat currency conversion rate. When a player places in the Big Win's section, their place is locked in with their payout crypto value at the time. Due to pricing fluctuations, this can result in a player's fiat currency displaying a higher amount than another due to the difference in the value of the bet when it was placed, versus the price of the crypto now.
Minimum bet to be eligible for any prize in this promotion is 10c USD or currency equivalent
The winner/s of the Eddie's Choice game will only be awarded the dedicated Eddie's Choice prizes for that week, not in conjunction with the standard Lucky & Big Win prize for the other nine games