Stake Glover's Treble - Double Winnings
Place a bet on Glover's UFC treble and have your winnings doubled at Stake.
All winnings will be doubled up to $100, as long as all three fighters win.
Register with Stake today using code HUGE for a big bonus to get you started.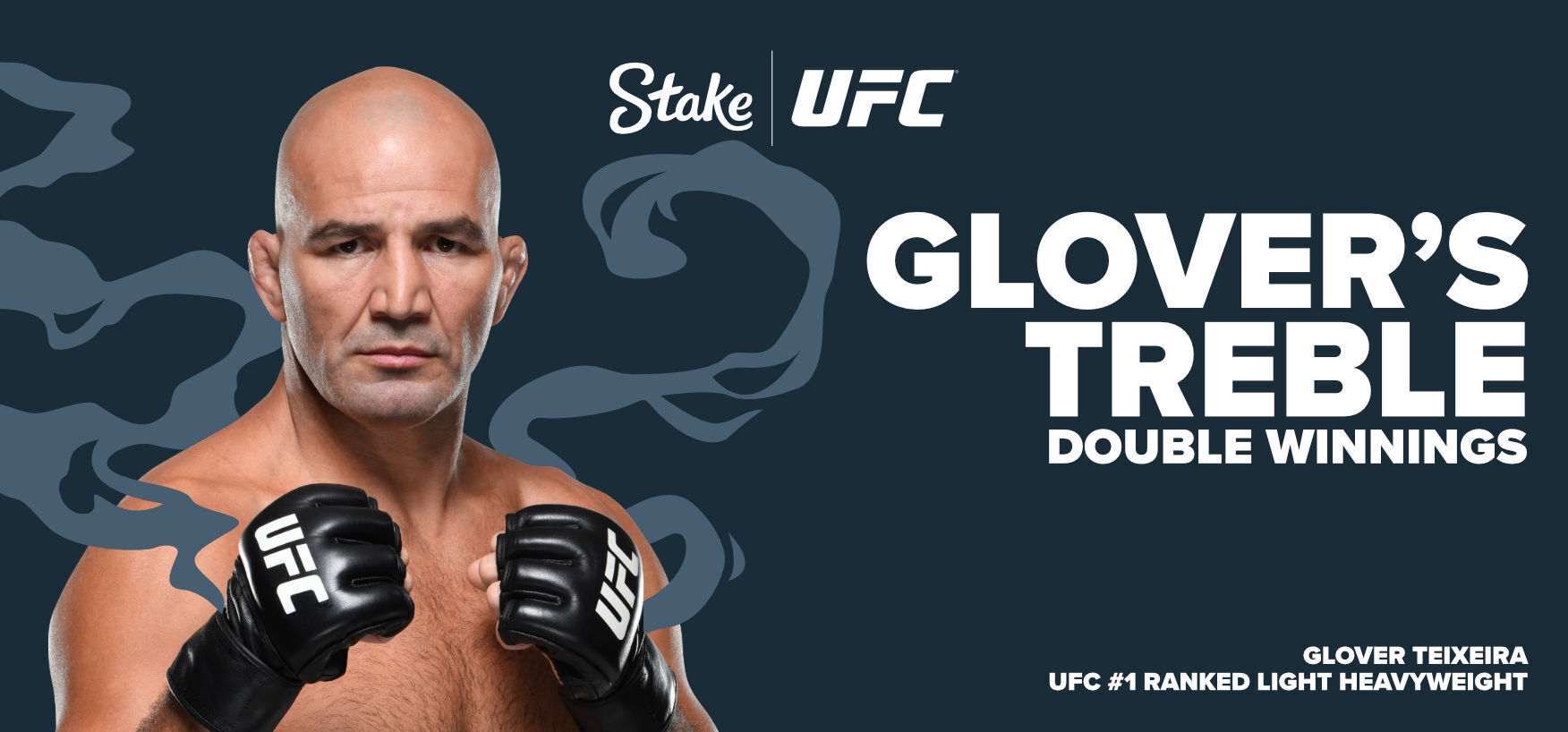 Fighter's Treble - Glover Teixeira

Glover's Treble - UFC 281: Adesanya vs. Pereira

Fighter's Treble Terms & Conditions

Stake Glover's Treble FAQs
Whether UFC is your go-to sport for betting or not, you can't miss out on this gripping promotion that can see your returns DOUBLED up to $100 if you back Glover's selections and they win.
Fighter's Treble - Glover Teixeira
Stake.com
is known to be backed by a number of former professionals as brand ambassadors across a range of sports and one of their newest additions is The Sledgehammer himself, Glover Teixeira.
As a welcome initiation, Stake has asked him for his tips on a UFC treble this weekend and he's come up with quite the combo:
Chris Gutierrez to beat Frankie Edgar
Michael Chandler to beat Dustin Poirier
Zhang Weili to beat Carla Esparza
Stake players that back this treble can see their winnings DOUBLED up to $100 as long as all three of the fighters come out victorious in their respective fights.
This offer is only available at Stake Sportsbook, so if you do not yet have an account, make sure you register today using
promo code HUGE
.
Glover's Treble - UFC 281: Adesanya vs. Pereira
This promotion applies to three UFC fights, as mentioned above, which will be taking place during the UFC 281 event at Madison Square Garden in New York.
The event itself will fully take place on Saturday 12th November in the US, but will of course cross over into the early hours of Sunday in Europe, so be prepared for a late one if you want to watch the results of your treble come in live.
The full UFC 281 schedule is as follows:
Ulberg, Carlos vs. Negumereanu, Nicolae
Arce, Julio vs. Jackson, Montel
Trizano, Michael vs. Choi, Seungwoo
Kowalkiewicz, Karolina vs. Juarez, Silvana
Frevola, Matt vs. Azaitar, Ottman
Petroski, Andre vs. Turman, Wellington
Blanchfield, Erin vs. Mccann, Molly
Reyes, Dominick vs. Spann, Ryan
Riddell, Brad vs. Moicano, Renato
Hooker, Daniel vs. Puelles, Claudio
Edgar, Frankie vs. Gutierrez, Chris
Poirier, Dustin vs. Chandler, Michael
Esparza, Carla vs. Zhang, Weili
Adesanya, Israel vs. Pereira, Alex
Fighter's Treble Terms & Conditions
As you'd expect, there are some terms and conditions that are tied to this offer and need to be mentioned. This is the case with all promotions in order to protect both parties, but you'll be pleased to learn that at Stake they are never too stringent.
This double returns offer is only applicable to three-leg Multi wagers (trebles, three-folds) that are placed before the events have begun. The bet also has to be the first one that has been placed on these fights per household.
The minimum qualifying stake is $5 and the maximum winnings including bonuses are $100, although of course you will still get the rest of your regular winnings on top if applicable. Bonus winnings will not be awarded on top of any cashout profits.
Winnings can take up to 72 hours to be credited, although this is usually completed much quicker. Winnings will not be paid out if Stake suspects any foul play.
Stake Glover's Treble FAQs
Which Fights Are Included In Glover's Treble At Stake?
The three undercards taking place immediately before the main event are included in Glover's Treble. These are Frankie Edgar vs. Chris Gutierrez, Dustin Poirier vs. Chandler Michael and Carla Esparza vs. Zhang Weili.
Which UFC Event Does Glover's Treble Apply To At Stake?
The three of Glover's selections for the Fighter's Treble promotion at Stake.com are taking place during UFC 281 at Madison Square Garden.
How Long Does It Take For A Stake Bonus To Pay Out?
Bonus winnings at Stake.com can take up to 72 hours to pay out, although they are often much faster.