Stake.com Watford - Road to Promotion
Join Stake by betting on Watford as they continue their push for promotion to the EPL
Get a 50% refund when you back the Hornets and they lose
Maximum refund is $50 a match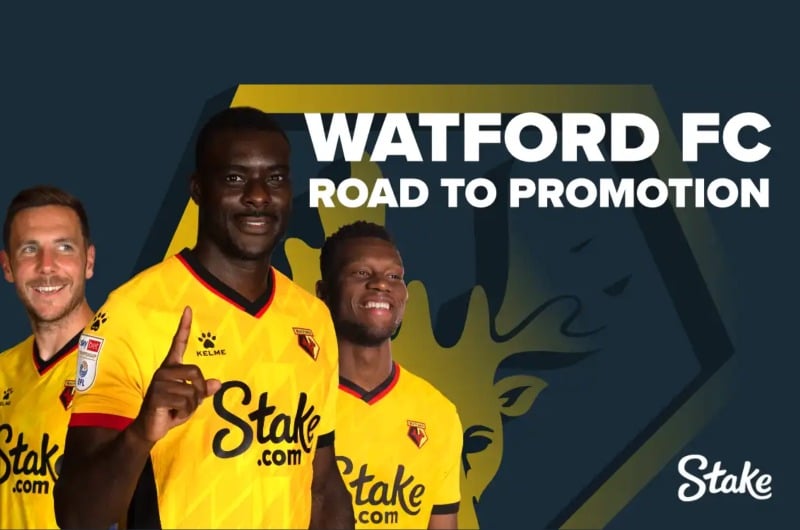 Stake's Vicarage Road to Promotion

How to Play with the Stake Promo Code

Guaranteed Win?

Watford - Road to Promotion FAQs
Stake.com remains a loyal partner to Watford Football Club. Now, it's introduced a new promo offering bettors 50% insurance if they back the Hornets to win but the team loses.
Stake's Vicarage Road to Promotion
After a sluggish start to the season, Slaven Bilic has now got the Hornets buzzing. Heading into the new year, Watford sit fourth in the table as they look to push on to reclaim a place in the Premier League.
To support Hornet's Premier League push, Stake has come up with its Watford - Road to Promotion promo. Quite simply, if you bet on Watford (to win) in the 1x2 market, and they lose, you'll get a 50% refund up to $50.
How to Play with the Stake Promo Code
Go to Stake.com.
Click register and complete the sign-up form.
Enter our Stake.com promo code HUGE.
Make your first deposit and get up to $1,000 in bonus funds.
Go to the sportsbook and search 'Watford'.
Place your bets on the Hornets in the 1x2 market. Minimum stake $5.
Get the full payout if Watford win - receive a 50% refund if they lose.
Guaranteed Win?
We're often asked if promotions like these are a good option for arbitrage betting. While it is true that you can guarantee a profitable payout if either team wins, the arb bet fails apart if the match ends in a tie (draw).
Let's look at an example with a simple model based on the odds for Watford vs Blackpool.
Bet $100 on Stake on Watford to win at odds of 1.75.
Bet $50 on Blackpool or draw (double chance) using a different sportsbook. The price we found for this wager was 2.15.
Here are the payouts for each possible outcome:
Watford win: The bet on Stake payouts out $175, so $75 profit, minus $50 for the second bet that loses. Overall: $25 profit.
Blackpool win: The Stake bet loses, so you get 50% refund ($50). The second bet wins for a total payout of $107.50 ($57.50 profit). Overall: Stake -50, other bet +57.50, so $7.50 profit.
Draw: The Stake bet loses with no refund. The second bet wins ($57.50 profit). Therefore, $100 lost - $57.50 won. Overall $42.50 loss.
As you can see, it's a risky strategy to use, but if you're confident that the match will not end in a tie, then it can work.
Watford - Road to Promotion FAQs
Does this promotion apply to FA Cup matches?
No. The Watford - Road to Promotion promo is only applicable on EFL Championship matches with bets placed on Watford in the 1x2.
Is there a minimum stake required to qualify for this promotion?
Yes. Players must bet a minimum of USD 5 (or currency equivalent).
When do I receive my refund?
Stake promises to credit all refunds within 72 hours of the bets being settled.
What is the maximum refund value?
The maximum refund from a single match is $50.