$600,000 Plinko Max Win at Stake Casino
Stake streamer lands $600 Plinko ball in the 1,000x multiplier for a $600K pay out
Syztmz is on a roll after hitting the 66,666x max win on Mental last week
What is Stake Originals Plinko, and why is it so popular?
Play Plinko with our new Stake Casino promo code HUGE
Syztmz With Another Max Win

The Beauty of Plinko

Register with our Stake.com Code HUGE and Play Plinko
Another Plinko max win is added to the books. However, this one is a little sweeter than most because the bet size was $600, which resulted in a $600,000 payout.
Syztmz With Another Max Win
Several of the
Stake Casino
streamers are on fire at the moment. I've recently covered big wins from Trainwrecks,
Roshtein
, and xQc. Now, I'm back to Syztmz again.
Plinko is a Stake Originals game. It has different levels of risk; however, most streamers will always play on high risk with 16 rows. These game settings offer the potential of a 1,000x max win, which you don't get on the other levels.
Syztmz
was playing on this high-risk level while also wagering $600 a ball. This bold move paid off handsomely as one ball floated down the outside of the pyramid.
On the third row from the bottom, it deviated inward slightly before popping back to the outside and finding its home in the 1,000x multiplier slot. In short, that's $600 x 1,000 - a payout Plinko max win of $600,000.
The Beauty of Plinko
The origins of Plinko stem from a game in Japan that's known as Pachinko. It is a popular game in arcades, often using coins instead of balls. Moreover, it was adapted for TV programs, including The Price is Right, which helped introduce it to the Western world.
Stake Plinko is easy to play. There are three 'risk' levels - low, medium, and high. Also, players can choose how many rows (of pins) they want on the game board. The settings you choose directly impact the value of the win multipliers at the bottom.
For instance, if you set the game to low risk and 8 rows, the highest win multiplier is 5.6x while the minimum payout is 0.50%. At the other end of the spectrum, high risk and 16 rows offer a 1,000x max win, which is what Syztmz got.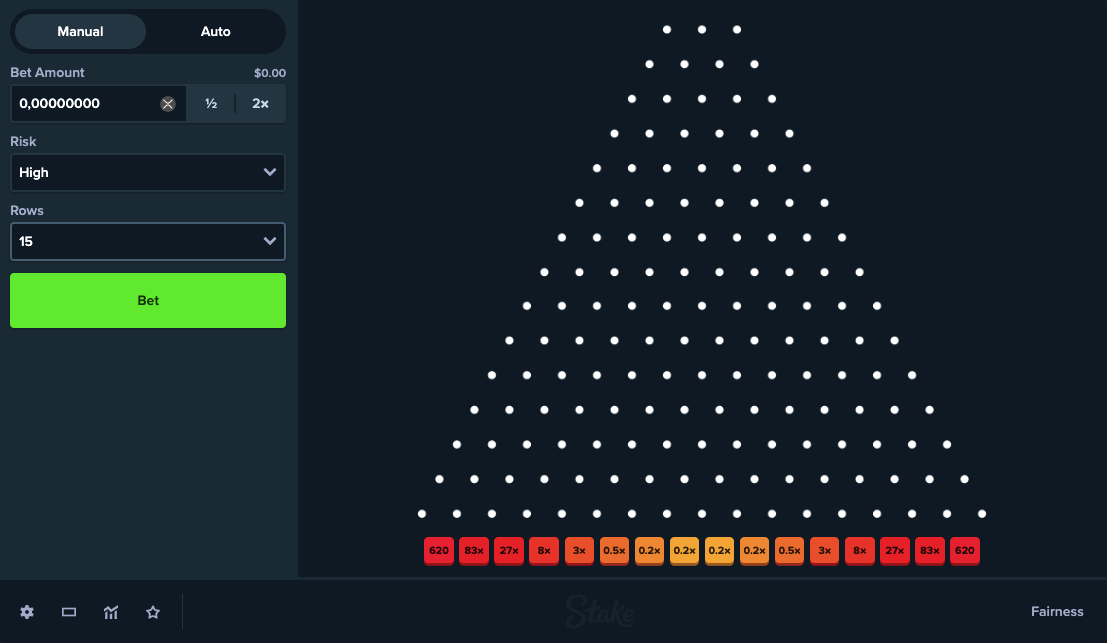 Register with our Stake.com Code HUGE and Play Plinko
Taking into account that the highest possible max win on Stake Plinko is 1,000x and how much it is played, it's not surprising that this game pays out a max nearly every day.
If you want to get in on the action, our
Stake code HUGE
is the best way to start. The code is redeemable when you sign up for a new account, and you'll then be eligible for a 200% matched deposit bonus worth up $3,000.
Unfortunately, Stake.com is not available in the United States. However, in 2022, this brand launched Stake.us. This is a free-to-play social sweepstakes that uses gold coins and Stake Cash.
Gameplay with gold coins is purely for fun. However, with Stake Cash, there is a chance of redeeming your winnings for crypto prizes, such as Bitcoin and Ethereum. Here, you can sign up with the same Stake code (HUGE), and you'll get 25 free Stake Cash and 250,000 gold coins.