$1.24 Million Mega Win on Stake Originals Plinko
Plinko is one of the most popular Stake Original games
$1.24M is one of the biggest wins on Plinko in recent history
Check out how to register with our promo code and claim an exclusive welcome bonus
Plinko Strikes Again

From Japan's Pachinko to Stake's Plinko

Let the Plinko Balls Drop with A Welcome Bonus

Plinko Big Win - FAQs
It takes courage to play Plinko at $2,000 a ball. However, one player's bravery was rewarded handsomely with a massive 620x multiplier and a total payout of $1.24 million.
Plinko Strikes Again
On
Stake.com
, players can check every game's biggest wins and lucky wins. When you view this information for Plinko, you see that nearly every day, someone lands the top 1,000x multiplier win.
This player wasn't playing for the 1,000x, however. To hit that, you have to set the game up on high-risk with 16 rows. Instead, our $1.24M winner was playing on high risk with 15 rows; hence, the maximum multiplier of 620x.
Still, this proved to be a remarkable strategy, as the 620x multiplier was hit with a $2,000 bet. All Stake's Twitter admin had to say was, "Beep, boop".
From Japan's Pachinko to Stake's Plinko
Pachinko is one of the most popular arcade, and more recently gambling, games in Japan. Players get a bowl of silver balls (or you can use coins) which they feed into the top of the game.

The Pachinko board is filled with rows of stainless steel pins. As the balls (or coins) drop down from the top bouncing off of the pins, they constantly change direction. At the bottom are various slots, usually offering different prizes.
Stake.com has taken the mechanical Pachinko game and made it into a simple online casino game called Plinko. It is one of its Stake Originals, which means that it is provably fair so that all results can be checked and verified.
Plinko has three risk levels - low, medium, and high. You can also adjust how many rows of pins there are on the board from 8 to 16. Therefore, you can play with a low or high volatility setting to style your style.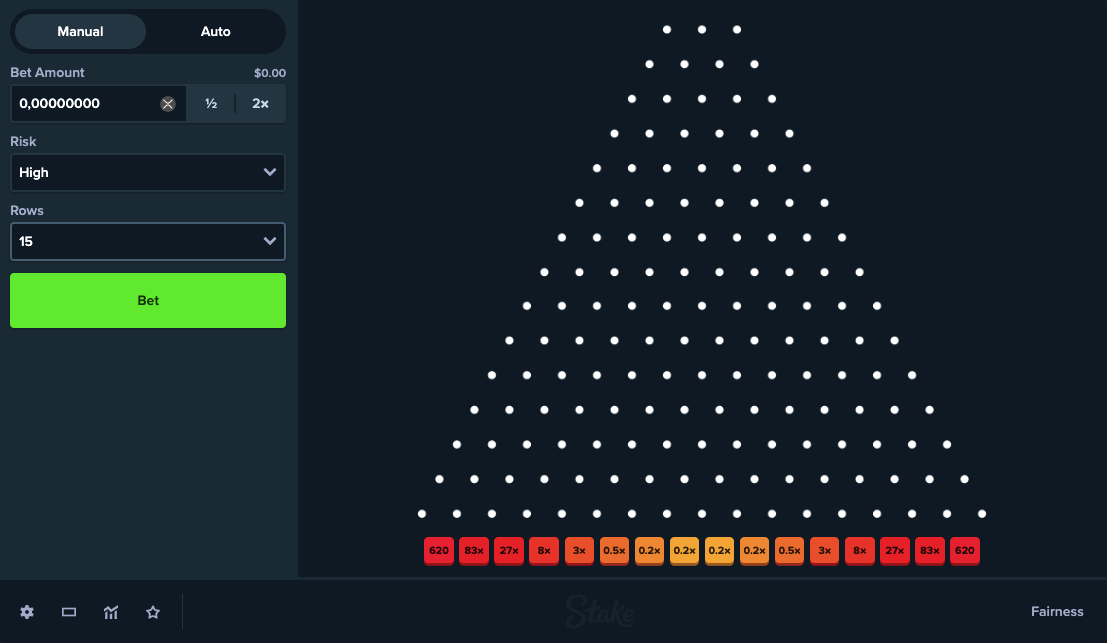 Let the Plinko Balls Drop with A Welcome Bonus
If you want to try Plinko and see if you can hit the 1,000x (or even the 620x) multipliers, our new
Stake.com promo code
is the perfect way to start.
You must register an account and enter the promo code HUGE on the sign-up page. Following that, once your account is verified, you become eligible for a matched deposit welcome bonus of up to $1,000.
Although we cannot guarantee massive $1.24M wins, you can still have plenty of fun playing Stake Plinko with this bonus.
Plinko Big Win - FAQs
What is the biggest win on Stake Plinko?
According to the information provided by Stake.com on the game page, the biggest Plinko win occurred on the 14th of August, 2022. The player bet 1.97457007 Ethereum and hit a 1,000x multiplier to win 1974,570.07 ETH.
What is the house edge of Plinko?
The published house edge is 1.0%, meaning that the return to player (RTP) is 99.0%. Of course, this is based on hundreds of games, so you're not guaranteed to get a return of $99.00 if you wager $100. You can win more or less.
What is the highest low-risk Plinko multiplier?
If you play on the low (risk) setting with 16 rows, the highest multiplier you can win is 16.0x.