Football fan turns $0.04 into $158.80 with 10-leg accumulator
Stake punter nailed 3,970x multi bet on football
Napoli' Champions League victory sealed winning bet
Customer took home over $150 from a $0.04 stake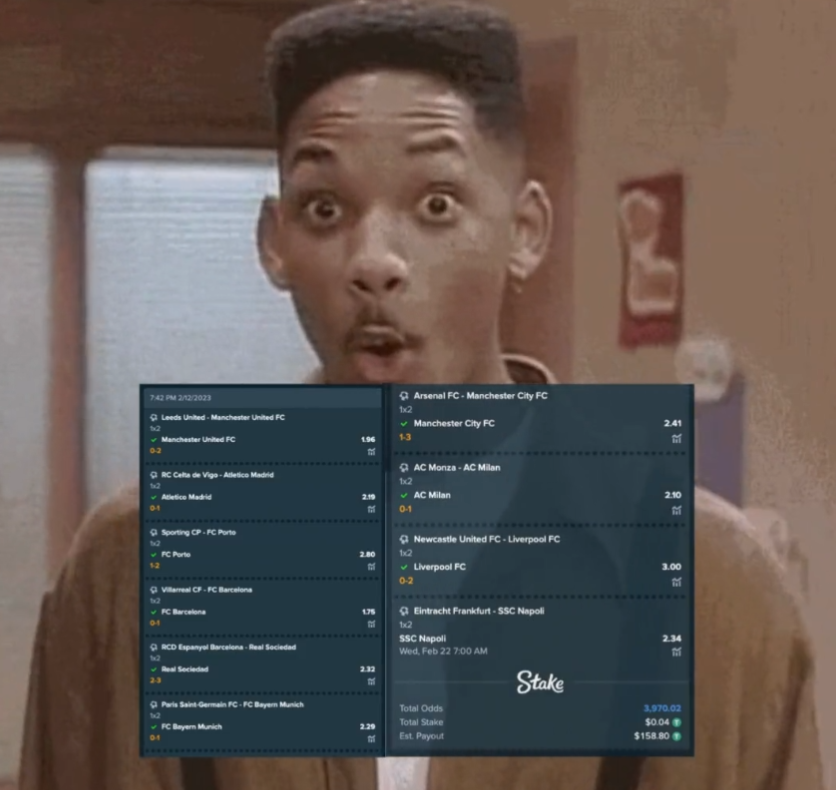 Should Have Stuck $5 On It

How The Bet Was Won

Stake.com Promo Code - HUGE
One savvy football fan has turned $0.04 into over $150 with a successful 10-leg accumulator bet.
Should Have Stuck $5 On It
Accumulator betting offers a great chance to win big from small stakes, and one football fan has done just that.
The
Stake
customer bet just $0.04 on a 10-leg accumulator massive odds and saw all 10 games deliver for a return of $158.80.
The bookmaker applauded the tremendous effort, but wondered if perhaps they should have had a little more faith and stuck $5 on it.
That would have had a return of $19,850!
How The Bet Was Won
Leeds vs Manchester United – Man Utd Win ✅
Celta Vigo vs Atletico Madrid – Atletico Madrid Win ✅
Sporting vs FC Porto – FC Porto Win ✅
Villarreal vs Barcelona – Barcelona Win ✅
Espanyol vs Real Sociedad – Real Sociedad ✅
PSG vs Bayern Munich – Bayern Munich Win ✅
Arsenal vs Manchester City – Man City Win ✅
Monza vs AC Milan – AC Milan Win ✅
Newcastle vs Liverpool – Liverpool Win ✅
Eintracht Frankfurt vs Napoli – Napoli Win ✅
This football fan showcased their knowledge of European football's top club competitions, although there were a string of close calls.
This bet started last week as Manchester United beat Leeds United 2-0 and Manchester City beat Arsenal 3-1 in a huge top-of-the-table clash in the Premier League.
There was also a 1-0 win for Bayern Munich against Paris St Germain in the Champions League and a 3-2 victory for Real Sociedad against Espanyol in La Liga.
The bet then kept rolling over the weekend as Atletico Madrid beat Athletic Bilbao 1-0 and Barcelona beat Cadiz 2-0, and this customer even dived into Portuguese football to back FC Porto to beat Sporting.
Premier League wins for Liverpool against Newcastle and Manchester United against Leeds kept the accumulator ticking over, and AC Milan's away win at Monza in the Italian Serie A left the customer just one win away from a winning bet.
They needed one more successful Champions League selection, and Napoli delivered with a 2-0 win at Eintracht Frankfurt last night.
Stake.com Promo Code - HUGE
If you want to place a parlay bet, or any type of bet for that matter, you will need an online account to place a bet with Stake.com. Signing up could not be easier and when you register using
Stake promo code HUGE
you can claim the latest welcome bonus. Read our review for step-by-step instructions for redeeming the code and the T&Cs. Stake.com Promo Code – HUGE.