Popeyes Sandwich Bags Xposed $250,000 Red Door Roulette Win at Stake.com
Xposed wins big playing Evolution's new game Red Door Roulette
The win came all thanks to a bit of help from his Popeyes sandwich
What is Red Door Roulette? Check out our quick guide
Play at Stake Live Casino with a massive 200% welcome bonus
Xposed Thanks His Sandwich for $250K Win

Welcome to Red Door Roulette

Enjoy Stake Live Casino With a $3,000 Welcome Offer
Some big wins linger in the mind longer than others. No doubt Xposed won't forget this one in a hurry after getting a helping hand from his Popeyes sandwich.
Xposed Thanks His Sandwich for $250K Win
Since covering big wins at Stake Casino, I've witnessed some amazing things, including full-reel wilds, 66,666x max wins, and last-spin comeback wins. However, Xposed has topped the lot with his $250,000 Red Door Roulette win, which came around because of his Popeyes sandwich.
The snippet from Xposed's recent livestream begins with him telling his viewers that he isn't able to leave the game, so he decides to have another bet. He wagers $500 each on 12 straight-up bets - a total bet of $6,000.
One of those numbers was 30 Red, which then had a random bonus key symbol given to it. An elated Xposed couldn't believe his luck when the ball finished on this number. The game then moves to the Crazy Time bonus wheel feature.
The gigantic wheel is packed with huge multipliers and double segments. It stopped on 500x, meaning Xposed won a stellar $250,000 (500 x $500). But that's not the end of the story; Xposed then revealed the reason he couldn't exit the game earlier was because his Popeyes sandwich was holding down a key on his keyboard.
To prove this, he showed 25 Stake.com tabs opened at the top of his browser. I don't know if Xposed tipped the delivery guy, but thanks to Popeyes, he won a quarter of a million dollars.
Welcome to Red Door Roulette
With all the regular classic casino games covered, Evolution now looks for hybrid variants that bring the fun and excitement of the original games, with big win multipliers for added thrills.
Red Door Roulette is the latest in a long line of titles in this new genre. With Red Door, after placing your bets, up to 15 golden keys are randomly spread across the board, covering the single numbers 0 - 36.
As Xposed did, players bet on straight-up (single) numbers. If you guess the right number but it doesn't have a golden key, the payout is 25:1. However, if the number you select also gets a golden key, you open the red door.
This leads to the famous virtual money wheel from another Evolution game, Crazy Time. It is full of mega multipliers worth up to 4,000x your bet. There are also double segments which give players an additional spin with the multiplier value being doubled.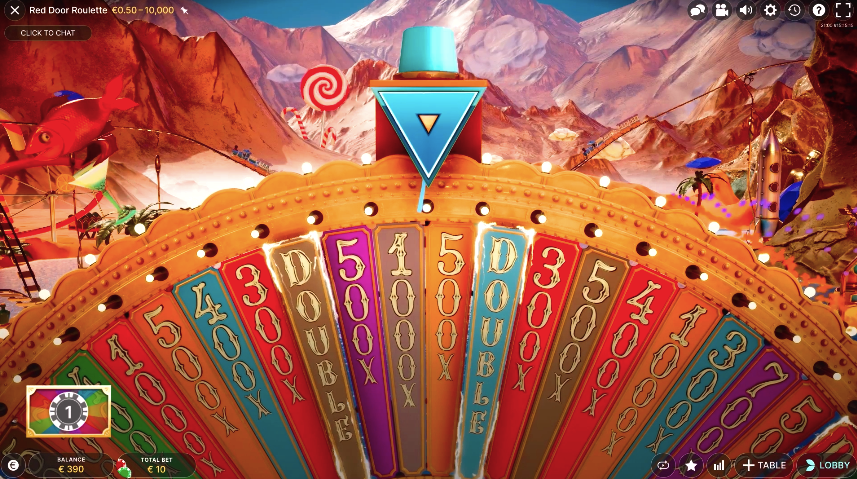 Enjoy Stake Live Casino With a $3,000 Welcome Offer
Red Door Roulette looks like it's going to be another popular game in Evolution's portfolio, and you can try it with free bonus money by using our
Stake promotional code
HUGE
.
This bonus is exclusively for new players. Here's how to claim it:
Use the link at the top of this page to visit Stake.com
Click Register and enter the required information on the sign-up form
Check the box marked Code and enter the word HUGE
Once you've registered, complete the KYC procedure
Inform customer service via live chat of the promo code you used
A 200% up to $3,000 matched bonus will be credited to your balance when you make your first deposit
Although this offer is not available to existing players, Stake has a plethora of regular and seasonal casino promotions, such as $100K daily races, weekly raffles, multiplier drops, and slots battles that enhance the value of playing here.