1,000x Max Win on Plinko at Stake.com
Streamer iRusSher lands the magic 1,000x Plinko max win
$2 bet turns into $2,000 with the drop of a ball
Plinko is one of the most popular games from the Stake Originals collection
Get this month's Stake code and play Plinko with a welcome bonus
$2,000 Win on $2 Plinko Bet

What is Plinko?

Try Plinko With our Stake.com Code - HUGE
Plinko is played so much that 1,000x max wins often happen multiple times each day. However, this one was during a live stream, which makes it that little bit more special.
$2,000 Win on $2 Plinko Bet
I challenge anyone to name a better feeling than the one you get when your Plinko ball drops into the 1,000x slot. Certainly, there are thousands of video and progressive slots that pose far greater jackpots, but there's something about Plinko that can't be matched.
For myself, it's the instant-win gratification. Many
Stake.com
big wins on slots usually have a build-up during a bonus round. But Plinko is much faster. In the beat of a heart, it's there, and the celebrations begin.
That's what happened to
Stake Streamer
OGiRusSher. He was playing Plinko (again) at $2 per game (one ball). The video starts with him telling his viewers that he hasn't had a 1,000x payout in ages, then, only a few balls later, a ball flew down the outside of the Plinko triangle and straight into the left-side 1,000x slot.
OGiRusSher let out a scream of delight, but the pitch of his voice couldn't be picked up by his mic, which makes the video all the more iconic.
What is Plinko?
Stake Originals' Plinko is based on the mechanical Japanese game Pachinko, which rose to fame in the west when featured on TV shows, such as The Price is Right.
The game is very straightforward - a ball drops from the top of the board and falls down a grid of rows with pins on them. The pins cause the ball to change direction as it drops. At the bottom, there are slots/pockets with different win multiplier values, which confirm the payouts.
Plinko has three risk levels: low, medium, and high. Also, players can choose between 8 and 16 rows. If you want to play for 1,000x, you must set the game to high risk and 16 rows before you start.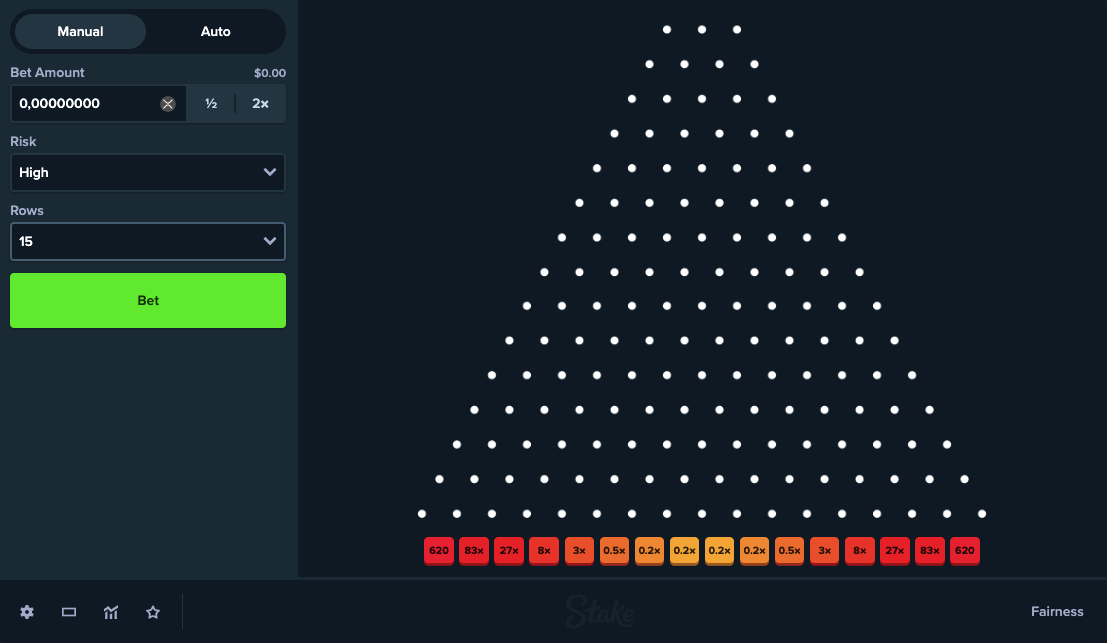 Try Plinko With our Stake.com Code - HUGE
Plinko is one of those games that draws players in. Its simplicity means it's a favorite for new and old gamers, and the possibility of 1,000x wins adds to the allure.
Unfortunately, no Stake Originals are available in demo mode, so you can only play Plinko in real money mode. However, the good news is that our
Stake.com code
, which is HUGE, opens the doors to a 200% bonus on your first deposit up to $1,500, meaning you can pick up as much as $3,000 in bonus funds.